Poker Run Championship Series
THE 2015
POKER RUN CHAMPIONSHIP SERIES
---
FLASH
We're changing the rules, because it's our event and we can, and because it's a good idea for safety's sake.
When dangerous weather conditions exist during a scheduled poker run (extreme heat, thunderstorms, hurricanes, lava flows, etc.) any entrant may elect to not ride that day, and instead choose another day to ride the course.
ENTRANTS MUST NOTIFY THE EVENT DIRECTOR (info@shakespeares.com) of the date/time the entrant chooses to reschedule, so that arrangements can be made to have cards ready at the restaurants.
It's all about getting out on your bike and having a great time, not testing yourself in dangerous conditions.
Events will be held on scheduled days; entrants may re-schedule by contacting event director.
---
Ride your bike from Shakespeare's to Shakespeare's, collect cards, best hand wins!
Pizza Party included.
THE PRIZES FOR EACH EVENT:
Cheap Cheesy Stuff the Sponsors Donate
PRIZES FOR THE WHOLE SERIES:
$52 Shakes Gift Card
$24 Shakes Gift Card
$14.92 Shakes Gift Card
A Shakes T-Shirt
Another Shakes T-Shirt
maybe Another Shakes T-Shirt
and whatever we can weasel out of the bike shops
(but they promised some really cool stuff!)
Scoring Posted Here
---
 THE BICYCLING EVENTS
of the
SERIES:
ALL SUNDAYS:
June 7: West Shakes to District Shakes and Back
June 28: South Shakes to District Shakes and Back
July 12: West Shakes to District Shakes and Back
July 26: South Shakes to District Shakes and Back
August 9: West Shakes to District Shakes and Back
Scoring Posted Here

Collect EVENT CARDS along the way,
Best Poker Hand Wins!
Choose any route, ride it between 11 am and 7 pm
Awards Party at Finish at 7 pm
Events are approximately 4-5 miles each way, 8-10 miles total, depending on route chosen
Lots of Cheap, Cheesy Prizes! (TBA)
Entry Fee: $6.00; Includes One Big Slice and a Drink at the Awards Party
Cards (5 required) are 25 cents each, $2.50 total
OPTIONAL: By One Bonus Card at the end to help your chances: $3
100% of Card Money collected goes to PedNet!
---
THE SERIES CHAMPIONSHIP:
Collect one separate CHAMPIONSHIP CARD for each event you finish.
At the last event, the best CHAMPIONSHIP CARD HAND
will determine the CHAMPION!!
Big Cool Un-Cheap and Un-Cheesy prizes for the
Top Championship Card Hands
---
Info @ info@shakespeares.com
INFO/FAQ:
What's a Poker Run?

A Poker Run is any kind of ride – a bike ride, motorcycle ride, horse ride, or even just a walk – where you collect playing cards along the way. Best poker hand wins! It is NOT a race. Go as fast or as slow as you want. The allotted time is plenty long to finish the event.
How do these events work?
Start at Shakes West or South, see the schedule. Ride there from home, or bring your bike on your car carrier, whatever. At the pizza counter, "sign up" by buying a $6 score card (includes a big slice and a beverage at the Awards Party that night). We'll record your DL (or some other number) on the scorecard, to thwart cheaters. CARDS ARE NOT TRANSFERABLE! TRADING/EXCHANGING CARDS GETS YOUR HINEY DQ'ED.
You'll also get to pick the first two cards of your hand (25 cents each, that goes to PedNet) when you sign up. We'll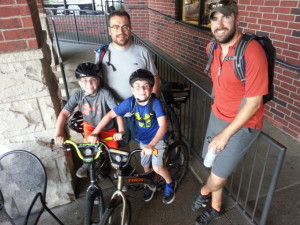 record what they are on the scorecard.
Hop on your bike and ride to Shakes Downtown! Take any route you like. BE SAFE! Helmets are strongly advised.
Go to the counter at Shakes Downtown, and present your scorecard. You'll get to pick two more cards (50 cents more for PedNet), and we'll put them on your scorecard. Take a break, fill your water bottle, eat a pizza. NO purchase required, but we don't mind if you do!
Head back to the Start. Check in at the counter, and pick one last card (two more bits for PedNet). That's five cards. Turn in your scorecard at the counter. Attend the Awards Party at 7:00 p.m. to see how you ranked!
Optional Bonus! Buy a sixth card to increase your chances of having 5 good cards in your hand. That's $3 for PedNet.
How long do I have to finish?
The event opens up at 11:00 a.m. at the start. You have until 7:00 p.m. to finish, or 8 hours. Fast riders can do the whole thing in well under one hour; many could do it in 2-3 hours, taking lots of breaks. You cold walk the thing in 8 hours. You could start at 4 in the afternoon and finish at 7:00. Or, finish way early, go home and shower, and come back at 7:00.
Can I enter more than once?
Sure! If you can ride it in an hour, you could pay three entries, enter three times, run the course three times, and triple your chances of winning the cheap cheesy prizes! Of course, you still only get one Series Card per event (see below) and you CANNOT mix and match cards between entries.
What's up with the "Championship" thing?
This is a separate event overlaying the whole series. In addition to the five Event Cards you collect during each event, when you finish, you will also be awarded one Series Card. These are separate and different from the Event Cards. Attend all five events, and you'll collect five Series Cards. The holder of the best hand of Series Cards WINS THE CHAMPIONSHIP! You might not win a single event, yet win the series!
There are real, un-cheesy, and un-cheap prizes for the holders of the top Series Cards hands. This will all be determined at the final awards party.
Can I track the scoring?
This Link takes you to a Google Sheet where we'll post the standings.