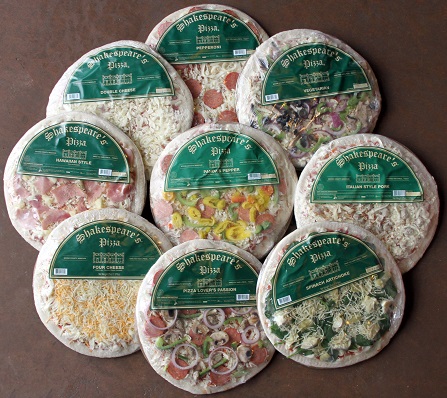 View Grocery Store Map or Order Frozen Pizzas Online
Can't get to one of our 3 locations? Check this map to find Shakespeare's frozen pizzas in a grocery store near you (if you live in Missouri) otherwise…..
We Ship Frozen Shakespeare's Pizza!
We can easily ship frozen Shakespeare's pizzas to you if you live in the following states:
MO, AL, AR, CO, GA, IA, IL, IN, KS, KY, LA, MI, MN, MS, ND, OH, OK, NE, SC, SD, TN, WI, and WV.
We can ship to other states, it's just a bit trickier. Call us and we'll work it out.
There's two parts: the Package, and the Shipping…
THE PACKAGE: $49.99
The package is three (3) Twelve-Inch Pies: choose Pepperoni, Italian Sausage, Vegetarian, Panda's Pepper, Hawaiian Style, Four Cheese, Spinach Artichoke, Pizza Lovers' Passion, or Extra Cheese. The three pies don't have to have the same. The package also includes the requisite dry ice, a cooler box for shipping, and instructions.
THE SHIPPING:
We ship them UPS. It normally takes anywhere from 1-3 days to ship. The shipping costs include: the Transportation Fee, the Fuel Surcharge Fee, Residential Surcharge Fee, the Paper Fee, the Phone Operator Fee, and the Wheel Changer Man Fee. I think you get it. The prices keep going up, but we only charge what they charge. Visit our online store and enter your address to determine shipping prices to ship frozen Shakespeare's pizzas to you today.
One last thing:
It's all-the-way important that you put the pies in your freezer at your end when you receive them. If UPS drops them off and you let them sit for two days on your porch or in the mail room or whatever, and you live in Atlanta and it's summer, then they'll thaw and you'll have a plant biology project when you open the box. If you are ordering pies as a gift for someone, make sure that they know to put the pies in a freezer when they get them.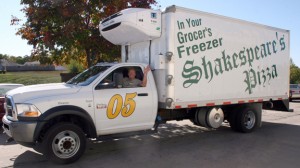 Sorry to make such a production out of it, but while it seems simple, it ain't. Further questions can answered by the Head Frozen Master at [email protected]. We even have a phone line just for mail-order frozen pizza questions:(573) 447-2622.
Order Shakespeare's frozen pizzas online.
How do I cook my frozen pizza?
How it happened:
We bribed the managers of the frozen foods departments of a couple of grocers with pizzas, Frescas, and a few other things we won't mention. We got our stuff onto the shelves, and now you can buy it. Years ago, we got all of our smartest tie dye T-shirt wearing folks together in the back room and figured out how to make a frozen version of our pies. We tried everything. In the end, we came up with a pretty darn good frozen pizza.
The first ones were sold at the Pierpont Store in beautiful downtown Pierpont, MO, just south of Columbia, about 8 or 13 years ago. They still sell the stink out of them there. We're not going to feed you a line about how our frozen pizzas are exactly as good as the ones that come out of the ovens on Ninth Street. You are waaaaay too smart for that. We will tell you that, honestly, lots of our customers really like them.
USDA-Approved Flavors:
Pepperoni
Italian Style Pork
Vegetarian (red onions, mushrooms, black olives and green peppers)
Panda's Pepper (pepper cheese, pepperoni, green peppers and banana peppers)
Hawaiian Style (Canadian bacon and pineapple)
Four Cheese (pepper cheese, provolone, cheddar, and Parmesan)
Spinach Artichoke (spinach, artichoke hearts, Parmesan cheese)
Pizza Lovers' Passion (pepperoni, Italian style pork, onions, mushrooms, and green peppers)
And of course the Extra Cheese Pizzas: fave of the 8-9 year old set, and the place to start if you want to add your own toppings.
(If you want something other than these, go to one of our restaurants and order a Take-and-Bake.)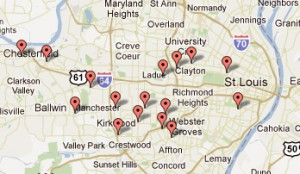 Locations can be found all across Mid-Missouri, St. Louis and Kansas City. Check out this Map for a location near you of where to buy Shakespeare's frozen pizzas.
If it's not in your favorite grocer, ask for it!