Quantity Discounts and Why You Should Eat Here
This page has info about ordering pizza for big groups, whether you eat it at our place or yours. If you'd rather, you could contact the catering experts directly by e-mail.
THE QUICK, SHORT CATERING ANSWER:
Our place or yours (we deliver).
Order one 16″ pizza for every 3-4 people. Your cost will work out to about $4-8 per person.
For pizza and soft drinks, it will be about $5-9 per person.
If you have it at our place and go crazy at the bar, it will be about $5-50 per person.
If you want a private room at our place, it comes essentially free during the week; a very reasonable rent applies on weekends. Sorta. More details here.
THE LONG, DRAWN-OUT, CATERING ANSWER:
One of our specialties is providing catering for big groups at a very reasonable cost.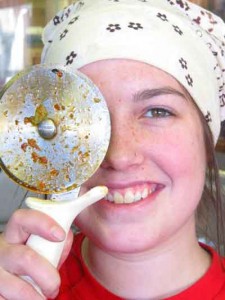 It costs far less to serve Shakespeare's to a large group than you may think: Parties typically cost about $5-8 per person. Yet it's the same Shakespeare's Pizza that's always at the top of the polls; the same pizza that long-time Columbia residents recommend to newcomers; the same pizza that we always serve. We send out a dozen big orders a week (at least) of eight, twenty, or fifty pizzas. We've catered groups of 1500 people. So you can be assured that we know what we're doing.
We can also have your group at our place. Our Great Big Dining Rooms seat a bunch of people, and we don't squawk if you move the tables around. We have a 50-seat party room at our Downtown and West locations, and a great big one out South that can hold up to 120, or can be divided into smaller spaces. They're great for informal meetings, birthday parties and other gatherings. Call us to talk about this; party room details here.
How much pizza do I need?
Generally, one sixteen inch pizza is a good meal for three to four adults. If your group has lots of big eaters, like football players, or teen aged boys, then you might want to go with a 16" pie for every 2-3 people. If you have light eaters, you can cover as many as 4 to 6 with each 16". If you are planning for the pizza to be just a snack, as opposed to a real meal, then figure on one 16" for every 6, 8 or 10 people or so. We can cut the pizza any way you like; smaller pieces encourage your guests to take less at a time.
We offer a thick crust (no extra charge) that tastes just as good, and can make your pizzas more filling.
Calling around to get prices from different pizza shops is wise, but a word of caution: make sure that you are comparing apples to apples. Our 16" pizza weighs over 3 pounds, cooked. Other "large"or "sixteen inch" pizzas may not actually be the same amount of food. Lots of places call a 14″ pizza a "large". A 16″ is 50% bigger than a 14″ (remember, it's Pi times the radius squared…)
What kind of pizza should I order?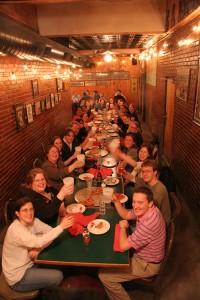 Any kind you want! You could ask each of your guests what their favorite toppings are, but that can be a hassle. If you want our recommendation….
The classic variety is to have some pepperoni, some Italian sausage, some Canadian bacon, some more pepperoni, a bit of vegetarian for those who like veggies only, some cheese for those who don't like any of the above, and some more pepperoni.
Single topping pizzas offer some advantages. First, if there are two toppings on a pizza, there's twice the chance that someone will not care for that particular pizza. (They might like the pepperoni, but not the mushrooms, for instance). Also, you are not necessarily going to satisfy more people with a (more costly) multi-topping pizza. Many of our customers choose single topping pizzas for these reasons. And remember, if you are buying the pizza, it's not very likely that anyone is going to complain about toppings. If they do, throw them out the door. We'd like to sell you pizzas with lots of toppings, but you should order what you want.
View the menu options here.
Okay, How much does it cost?
Usually, about $4-8 per person.
If you order twelve or more 16" pizzas (any number of toppings) on the same order at the same time, we'll knock a big quantity discount off the whole order. That's a discount on whatever drinks, salads, or other stuff you may order besides the pizzas.
If you want to talk about 50 or 100 or more pies, give the manager a call. We'll talk. We'll push the pencil around and see if we can come up with a really good deal if you need that many pies. (Just for the record, we can make something like 125 large pizzas every 10-15 minutes between all three locations.)
What about drinks?
The best drink in the house is good ol' water, and it's free (natch).
We offer 20 ounce bottles of Coke and Pepsi products. A 20 ounce bottle is a nice big bottle; bigger than a can of soda, but not quite enough to share. We also have a variety of 2-liter soft drinks, Coke and Pepsi products, that we can deliver with cups and ice.
If you are planning to have your event at our place, you can have our bottomless Shakespeare's cups of soda. You can also order from the bar, where we offer a bunch of different beers on tap, dozens of bottled beers, and a full selection of wines and spirits.