Reminder: Shakespeare's restaurants have lots of flour floating in the air, so you'll ingest trace amounts of flour just by visiting us.
---
 Gluten-Free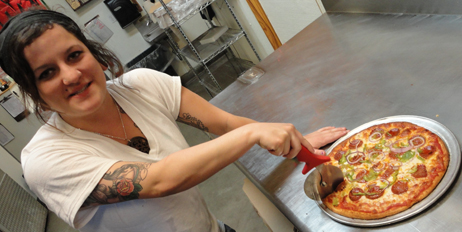 Not many folks know that we have a Gluten Free Crust, but we do!  We may need more signs.
Our gluten free crust is sourced from a great place in Connecticut called Still Ridding Foods. It's only in the 12″ (because that's what they make) and it's $3.00 more (our cost) and we prepare the gluten-less pizzas using separate utensils for your safety.
We use the same toppings, cheese and sauce on the gluten-less as we do with the regular pizzas, and the gluten-less pies really aren't half bad at all.
We have a few customers who order the gluten-less pizzas just because they like them, even though they are fine with flour.
Gluten-Free Crust Ingredients:  Water, Rice Flour, Potato Starch, Tapioca Flour, Yeast, Canola Oil, Molasses, Baking Powder, Sugar, Xanthan Gum, Salt, Calcium Propionate. We don't know what some of that stuff is, but it's not gluten!
---
Additional Allergy & Dietary Information
---
Eggs
We don't have eggs in our restaurant. We don't use them in our crust, or with any of our toppings.
They can be found in our Blue Cheese, Buttermilk Ranch, Dijon Honey Mustard and Royal Cesar dressings.
Soy
We use a vegetable oil blend that does contain soy bean oil in our crust.
Soy can also be found in our Light Italian, Blue Cheese, Honey French, Balsamic Vinaigrette, Buttermilk Ranch, Hone Dijon Mustard, and Royal Caesar Dressings.
Nuts
We only use nuts in our salads. Walnuts and almonds, no peanuts. They are not present in our pizzas. However, nut allergies are scary and we want you to know that our salads are prepared in close proximity to our pizzas so if you have nut allergy, please ask to speak to one of our managers.
Milk
We can hold the cheese. No problem. We are even okay with you bringing your own dairy- free cheese. Just please make sure it is in a sealed package, and we are happy to put your cheese on your pizzas. Like with wheat allergies, please know that we use a lot of cheese. Like a lot. Tons every week in fact so it is possible that trace amounts will find their way on to you pizza. We do our best to keep things nice a tidy but all pizzas are prepared and cooked on the same surface.
Also, milk can be found in the Blue Cheese, Honey French, Fat Free Ranch, Buttermilk Ranch, and Royal Cesar dressings..
Vegan/ Vegetarian
Great news! Our crust, sauce and many of our toppings are vegan and vegetarian friendly. Also, our salads and many of our salad dressings are vegan and vegetarian.
As with everything at Shakespeare's we are happy to talk to you about accommodating your requests… just ask!