---

The Add Sheet
We've been on the front page of the Add Sheet since the last Ice Age.  Two Bucks off any Sixteen Inch Pizza.  (Sixteen inches is our large… lots of other joints call fourteen inches a "large" …  So know that.)
You gotta have the coupon from the Add Sheet; tell us you want to use it when you order, and present it when you pay.  Good Dine-in, Carry-out, or Delivery (delivery involves a fee; drivers don't work for beans, you know). Expires at some point. 
---
Text Message Specials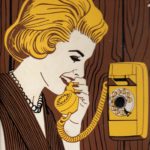 Sometimes we get bored, so we fire our really good text message specials to spice up things around here. If you like deals, you do not want to miss these.
Text ShakesDT to 51660 to get messages.
Very easy opt-out anytime.
We'll make it worth your while.
We will NOT text you often, only like every couple of weeks or something maybe.
We won't annoy you. It will be worth it when you get a text. We promise, pinkie-square .