Be one of us…  have a Shakespearience:
It's a party where we  show you how to make your own Shakespeare's Pizza in our kitchen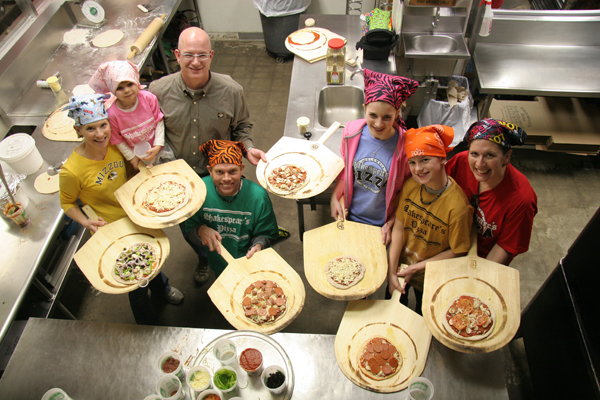 Bring yourself and five friends.  A basic Shakes Tee and a bandana, the Official Shakes uniform that every employee is not required to wear, is part of the deal for everyone. We'll show you the secrets, teach you the lore, let you spin your own crusts, sauce your own pizzas, add your own toppings, get flour all over yourself, burn your arm on the oven door like we all have, cook your own pizzas, and eat them.  A couple of rounds of drinks are included throughout your visit.  Then (optional) you can do the dishes.
$218.90
(less than the sum of the parts)
Gets Your Party of Six:
An Official Shakespeare's Bandana (new) for each of you to keep the hair out. (Although it'll be your hair, so what do you care?)
An Official Shakespeare's Tee (new) for each of you so you'll look almost as cool as Felicia the Mushroom Girl. (Hint: roll up the sleeves so your tat shows, or cut the neck hole out bigger.  It's a start.)
Your very own Shakespeare's Pizza Shakespearience Cruise Director (one of our trainers in disguise).
A complete tour of the joint: access to the Secret Room where we mix the sauce, a look at the ginormous mixer that makes 2 tons of dough a week, a gawk inside the beer cooler, etc etc.
All the fixin's to make an 8″ pizza for each of you, with whatever toppings you want.
Libations!  One of our bottomless Shakes Cups for soft drinks (Pepsi AND Coke!) or a round of the fun stuff for the grown-ups.
Instruction and guidance so you make an actual pizza, and not a grade school geography class paper mache model of a volcano in Madagascar.  Fear not-  we keep our hands in our pockets… YOU make your own pizza yourself!
Reserved seating (if it's available) to dine upon that which you have wrought.
Full access to our dish room so you can clean up the mess you'll no doubt make. (Optional) (No, it's not.  You need the full experience.) (Just kidding) (No, we're not.) (Yes, we are… maybe.)
We're happy to pro-rate the price for parties of 2-12. There are only so many seats in the canoe. More than 12 and it sinks when it hits the rapids.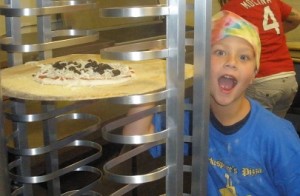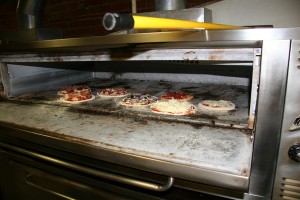 IMPORTANT: Shakespeariences are by appointment only!
As much as we love you, we love our other customers too. So, we generally can't do these on busy times like weekend nights,  Graduation or Football weekends, etc… but that leaves lots of open times.
If you would like to schedule one, call the restaurant, or better yet, Contact Us
PS: They aren't just for kids….