Menu

We suggest the pizza…
All our pizzas are served with your choice of wheat or white crust. Hardly anybody orders the wheat, but everybody should. We normally make it medium thickness, but you can have it extra thick or extra thin if you like.
---
Download a printable menu Here
We also have a Gluten-Free option.
Wanna do it yourself?  Have a Shakespearience
We do Take and Bake!  Same price and everything,
but you cook it in your oven.  Instructions Here
Wanna Deal? Deal, Schmeal
---
Basic Pies
Size
8"
12"
16"
Persons Served
1
2
3-4
Cheese Pizza
$5.25
$9.25
$13.75
Additional Toppings
$0.70
$1.55
$2.50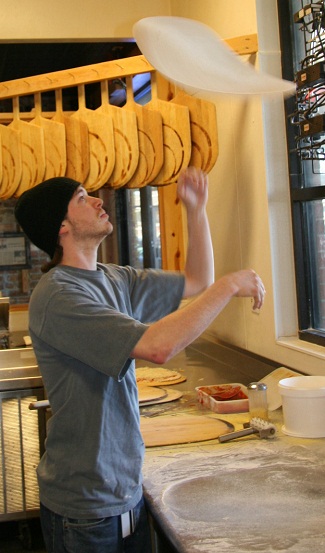 | STOAM | NOT STOAM |
| --- | --- |
| Red Onions | Pepper Cheese |
| Pepperoni | Pineapple |
| Canadian Bacon | Artichoke Hearts |
| Fresh Mushrooms | Jalapenos |
| Sliced Ripe Black Olives | Tomato Slices |
| Green Peppers | Spinach |
| Lean Ground Beef | Green Olives |
| Italian Sausage | Cheddar Cheese |
| | Turkey |
| | Banana Peppers |
| | Breakfast Bacon Crumbles |
| | Broccoli |
| | Anchovies |
---
Specialty Pies:
ANY substitutions are permitted on ANY of these pizzas. You are, after all, paying us. Half toppings are half price.
The Masterpiece
All of the toppings from the STOAM  list above. (Stuff That's On A Masterpiece)  This is a huge amount of food. Forks strongly recommended; the toppings all fall off. We sometimes hear "What? Thirty clams for one pizza???"  But consider this: the 16" Masterpiece has a POUND of meat (after cooking) a POUND of vegetables, and is a full meal for four, maybe five. The whole thing weighs about 5 pounds! You pay for what you get.
The Pizza Lovers' Passion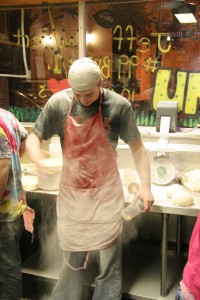 Order any five toppings of your choice, you only pay for four.
The Vegetarian
Double Cheese, Red Onions, Fresh Mushrooms, Black Olives, and Green Peppers. Feel free to substitute any of the other toppings. It's your money.  (Order this.  It's good for you.)
The Meat Lover's
A real heart stopper. Pepperoni, Canadian Bacon, Ground Beef, Italian Sausage, and Breakfast Bacon. (Side of defibrillator included.) (Don't order this.  It's not good for you.  It has more sodium than a salt mine, and about 9,000 calories per slice.)
The Darwin
Named in honor of our heart-healthy (former) Mayor, Darwin Hindman, and all that he has done for Columbia.
Red Onions, Green Peppers, Artichoke Hearties, Turkey, and Tomatoes.  (Order this, it's good for you)
Specialty Pies
Size
8"
12"
16"
Persons Served
1
2
3-4
The Masterpiece
$10.15
$20.10
$31.25
Other Specialty Pies
$8.05
$15.45
$23.75
Additional Toppings
$0.70
$1.55
$2.50
---
Salads
All our salads make a nice side, or a light meal.
Ollie's Salad – $4.95
Spinach, red onions, glazed walnuts, cranberries, mandarin oranges, and Gorgonzola cheese, with a balsamic vinaigrette dressing
Named in honor of the owner's dog, Ollie. It's the newest, fruitiest addition to our salad family.  But it's been around since 2010, so it's not new, just the new-EST.
Louie's Salad – $4.95
Spinach, sliced almonds, hearts of palm, shredded Parmesan cheese, croutons and a secret, delicious dressing
Named in honor of one of the manager's dogs, Louie. He doesn't like the salad (He's a dog. Dogs don't eat salad. They eat rabbits. If they can catch them. Otherwise, it's the same dog chow over and over and over…) But his owner likes him, as well as the salad. Don't ask us what a heart of palm is. All we'll say is that it's kind of like a Vienna Sausage, but it's a vegetable.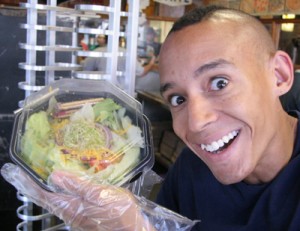 Vegetarian Salad – $4.95
Iceberg-Romaine lettuce blend, red onions, mushrooms, black olives, green peppers, cheddar cheese, broccoli, and tomato
Meats and Cheeses – $4.95
Iceberg-Romaine lettuce blend, turkey, ham, Swiss/American blend cheese, cheddar cheese, artichoke hearts, and tomato
Dinner Salad – $2.49
Iceberg-Romaine lettuce blend, red onions, cheddar cheese, and tomato
A nice simple dinner salad if that's all you want, but boy it's just that. Simple.
Salad Dressings
Choice of T. Marzetti's dressings with the Vegetarian, Meats and Cheeses, and Dinner Salads
(The Louie's and Ollie's salads already have a dressing.  We'll change it if you want, but trust us, it's good the way it is.)
Dressings (except the Ollie's and Louie's) are always on the side in a packet.
Extra Dressing Packets -  $0.23 – It ain't the cheap stuff, and it ain't free. We make like maybe two cents on each packet.
Ranch, Fat Free Ranch, Light Italian, Honey French, Honey Dijon, Blue Cheese, Balsamic Vinaigrette
In the Midwest, Ranch dressing is a food group
---
Other Stuff
Cheese Garlic Bread – $5.49
Made with real butter. A great appetizer. Five slices of French bread with garlic butter and our provolone pizza cheese. Lovingly sliced and buttered by hand.  Unless the guy doing it is having a bad day, in which case it's likingly sliced and buttered by hand.
Frozen Pizzas
Our frozen pies are available at our restaurants and at local grocers, or you can Order On Line and have them mailed to you.
Libations
We have lots of drink options; the best is our good ol' 22-ounce tumbler. Fill it up with soda (Coke and Pepsi products), tea, lemonade, etc. and then take the cup home!
Taking it to go? Try 20-ounce or 2-liter bottles; again, Coke and Pepsi products.
We also stock a wide variety of beers (tap, bottle, import, domestic, micro, etc.) and wine. Our locations in The District and out South also offer a full bar.