Deals, Schmeals
---
SHAKES REWARDS
Peanut butter thinking is quite the far-fancy, with fetching pines among the barren.
"Groovi-ness" must prevail, as well as conformity among us.  So we'll join the fray, and say…
Spend a dollar, get a point.
Earn 225 points, get a gift card for $9.94
Earn another 225 points, get a gift card for $14.92
For every 225 points after that, get a gift card for $22.25
We track it all with a phone number, so we'll ask for some array of ten numeric digits.  We're not going to call it (or sell it, or whatever, see our privacy ideas).  Just make sure you remember it.
YOU HAVE TO ASK to be in the program, so be sure to ask your phone-answerer or order-scrivener to make sure you are in the Shakes Rewards program.
Sorry, but dollars you give us for sales tax, gift card purchases, delivery charges, room rentals, and a few other reasonable things, or wine/beer/spirits don't earn points. If you want to gripe about that, contact us. We're all ears.
Points add up across all our locations… we have a computer!
There are a couple of minor details and specifics that might interest you.
---
The Add Sheet
We've been on the front page of the Add Sheet since the last Ice Age.  Two Bucks off any Sixteen Inch Pizza.  (Sixteen inches is our large… lots of other joints call fourteen inches a "large" …  So know that.)
You gotta have the coupon from the Add Sheet; tell us you want to use it when you order, and present it when you pay.  Good Dine-in, Carry-out, or Delivery (delivery involves a fee; drivers don't work for beans, you know). Expires at some point.

---
Every Monday: Kids' Night
Actually, it's Kids' Day, because it works all day.  We're not a daycare, but you can sure bring your kids. Dad can still get a cup of brew, and the kids get some dough to make snakes with, and free soda. (Though they should drink water or juice; soda isn't good for them.  Or you.)
Kids ten and under get their own 8″ one-topping pizza (limit 3 kids / 3 pizzas) when the grown ups buy any 16″ two-topping.  DINE IN ONLY.  Kids have to be present, and so do the adults.  Throwing the dough we hand out is a food fight. No running or yelling.  Unattended, unruly, unsupervised children will be escorted out.  Parents, you can claim them at the door.

---
Bar Specials
You have got to check out what we do at the bar.  (We don't have one out West, but they often run beer specials.)  Every bartender gets to do whatever they like with specials.  There's always something good going on.
Of course we'll card you. We don't over serve (that means "get you drunk", Eli) but we'll make sure you have a good time.  Not only will we put whatever you want on the Tee-Vee, we'll even give you the remote.  No smoking.

---
Every Tuesday: Boomer Night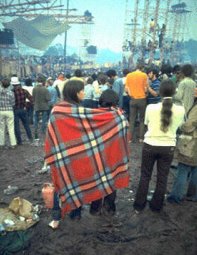 Actually, it's Boomer Day, because it's good all day.  This is a screamin' deal.
If you're a Baby Boomer (or older), then every Tuesday (all day, actually) we want to offer you $2.22 Off any Twelve Inch or $3.33 Off any Sixteen Inch
IN HOUSE ONLY, NO DELIVERY OR TAKE-OUT (because we're hoping you'll buy a Fresca or a Boulevard or something, obviously). No ID needed.  We'll take your word for it. We don't care if you share. No limit; bring the family and buy six. Not good in combination with other offers, of course, but this is a better deal anyway. Good all Tuesday long, just ask for it when you order. It would be void if prohibited, but it's not. No smoking. No chawin', either. Coke and Pepsi products available, but you should drink water.  It's better for you, and it's free. 
---
Slice Cards: Civilians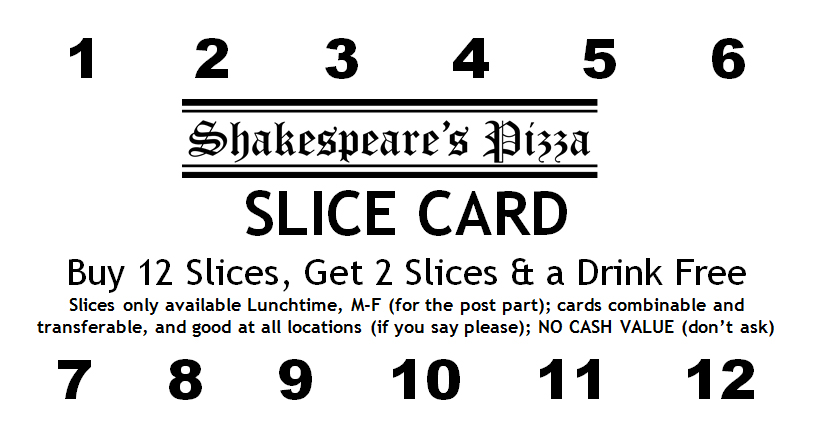 serve pizza by the slice at all locations during
Cards are combine-able, transferable, work at all locations,  and are made from paper.  Launder or lose it, and you lost it. Warning: the last guy that forged stamps got caught immediately, and, well….lunch, Monday thru Friday. Get a slice card by smiling and saying please at the counter, and start stamping.  We'll stamp your card for every slice you get, and when you get 12 stamps, we give you two slices and a soda for free!
---

Slice Cards: High School Students
If you are a current high school student, you can get and use one of these.  get a stamp for each slice you buy, after six stamps, you get One Slice & a Soft Drink FREE.
You MUST show your current, valid High School ID for every stamp, and when you redeem the filled card.  Cards are combine-able and transferable among high school students, and made from paper.  Launder or lose it, and you lost it. Warning: the last guy that forged stamps got caught immediately.  If we have even a hunch that you're cheating, we'll abscond your card.
---
Mid-Missouri Passport
We have a couple of coupons in the midmo.com Passport Book.  The books are sold as a fundraiser for local schools.  If you bought one, use it!
Coupons in the book are:
$2.25 Ooff any Sixteen Inch Pizza
$5.23 Off any TWO Sixteen Inch Pizzas
$8.95 Off any THREE Sixteen Inch Pizzas
All deals are valid Sunday thru Thursday ONLY
(Because we're slammed on Friday and Saturday, that's why.)
---
Add Sheet Birthday Club
After a lot of hand wringing and chin rubbing, we've decided to throw our hat in with our buddies at the Add Sheet and get on board with their Birthday Club.
They say you get $400 worth of free stuff on your birthday.  Must be true.  We know those guys, and they're straight shooters.  (When we started playing with the Add Sheet, Columbia Mall was a cow pasture, Obama's 'fro was the size of a beach ball, and people actually knew what it meant to dial a dial on a telephone.)
As for our part of the $400, we're giving you a free meal for your birthday.  Our average check is about $7.23 per person, so join the Add Sheet Birthday Club and that will be our birthday present to you.  No catches, no strings, no other purchase needed, no nothing… a truly free meal. (Okay, there's a catch:  we ask that it be dine-in only… we're hoping you bring in some friends to help you celebrate your birthday!)
Details, and sign-up,  at the Add Sheet site, click here.
---